BOSTON ELECTROLYSIS JOKESTRESS.COM REVIEW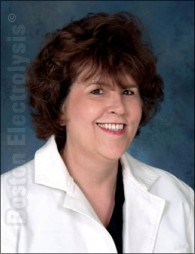 KIMBERLY WILLIAMS R.E. AUTHOR MA LICENSED & REGISTERED ELECTROLOGIST
Boston Electrolysis 7330 East Earll Drive Suite J Call 480-607-8121 For an Appointment
ALL ABOUT ELECTROLYSIS BY SEANNA RICHHMOND CE
WHY IS SEANA RICHMOND NOT A LICENSED & REGISTERED ELECTROLOGIST?
1451 Chatelain Ave, Ottawa, ON K1Z 8B2, Canada
What makes you believe that a DIY self taught Non-Licensed electrologist like Seana Richmond can perform a competent electrolysis treatment? However what makes you think she is competent electrologist compared to a Massachusetts State Licensed & Registered Electrologists since 1951 that have established an Elite Educational Electrolysis system to train, educate and license electrologists to maintain and sustain licensed electrologists to be second to no one and first in quality in doing electrolysis treatments!  There is reason for electrolysis education and that is the fact that any state would rule against James Walker for not returning the money he took from the German-Girl and he refused her service and refused to return her money. James Walkers office was unfit and full of filth to do electrolysis treatments and you know that to be true but you praised James Walker the VII and his lies that he was working to much. If a Massachusetts Board of Electrologists State Board Inspector would have entered Walkers Palace of Filth in seconds the State Board would have him immediately arrested.
When it comes down to the truth Seana Richmond CE a Certified Electrologist supported James  Walker VII a non Licensed Electrologist from a German Girl a Transwoman who flew to America and paid & $8,800.00 in advance to James Walker who claims to be The Electrolysis World Champion and owner Executive Clearance refused to work on her and refused to return her money. James Walker is known for his abusive deliberate misgendering of Transwomen who call him out and he is a compulsive liar and  Seana is a certified non licensed electrologists they keeps calling other Transwomen "Nutjobs" on hairtell.com. However I want you to know that I lectured Harvard Medical School for  four years and I have a letter of thank you for a major new teaching venture at Harvard Medical School from 1983-1987 and you can read the letter on BostonElectrolysis.com. FYI James I lectured on Human Sexuality, Endocrinology, Histology, Biology, Microbiology, Pharmacology, Electricity and a few minor courses. However I have a letter of thank you from Daniel D. Federman, M.D., Dean of Students and Professor of Medicine and the Dean of Harvard Medical School.  Seana Richmond CE aka Iluv2zap was not asked to lecture at Harvard Medical School does not accept jealous envious Without one doubt Nutjubs like Seana Richmond have done nothing worth speaking of while I have letters of appreciation from Harvard Medical School. Seana while you having nothing but hatred for ne. You have not seen any of my lectures at Harvard Medical School?
Of course we must  not forget that Haitell.con is owned by Andrea James who did nothing nothing to get James Walker to return the money to the German-Girl that worked hard to earn that money James Walkers scammed from her? All of the lowlife hairtell.con members are jealous and use lies that slam sate licensed electrologists all the time because you have wasted your life promoting hate and you will never attain and complete your your life in any form or manner unless you get help. The Great Seanna TG Seana still has hair on your face, neck and chest is the result of your potassium imbalance caused by your Endocrine Disorder. Your self training and your DYI non-licensed uneducated electrologist training did not work. Seana Richmond CE aka Iluv2zap how does a bearded MTF Trans-Electrologist like you instill confidence in your clients with all that hair that you missed. Seana your self taught course failed you in the clutch.  that You can't clear yourself and your infamous training course is major flop. How can you associate yourself with James Walker VII who routinely bashes and Misgenders a Massachusetts State Licensed & Registered Electrologist with 42 years experience without one complaint on her license? SeanaTG I know you and James and Andrea like to misgender transwomen? Does it bring back your old male swagger? Seana I am one of the few electrologists that specializes in endocrine disorders. I know some excellent research Endocrinologists at Harvard Medical School and the Mass General Hospital that could help but you believe you know better than anyone and would refuse the help. 
SEANAILUV2ZAP JAMES WALKER VII IS A VILIFIED MEAN SPIRITED NON-LICENSED ELECTROLOGIST THAT DELIBERATELY HAS TURNED YOU INTO A FELLOW QUACKEROO! YOU MISGENDERS KIMBERLY WILLIAMS AND OTHER TRANSWOMEN AND MISGENDERING IS A CLASSIFIED AS A HATE CRIME UNDER THE MATTHEW SHEPHERD HATE CRIMES ACT. JUST LOOK HOW JAMES WALKER THE VII TOOK CARE OF GERMAN GIRL? DO YOU THINK HE CAN BE TRUSTED? ARE YOU GOING TO JUST LIKE JAMES WALKER THE VII? 
BELOW IS JAMES WALKERS POST ON HAIRTELL,COM THAT DELIBERATELY MISGENDERS ME TO CAUSE EMOTIONAL DURESS THAT HE THINKS IS SO AMUSING.
JAMES WALKER MODERATOR AND ANDREA JAMES IS OWNER OF HAIRTELL.COM AND BOTH OF THEM MADE THE HATEFUL STATEMENTS BELOW. BELOW IS JAMES WALKER MISGENDERING ME. OH JAMES WHAT SHOULD I DO? DROP TO YOUR LEVEL? NO THAT WOULD MAKE ME A HATER JUST LIKE YOU AND THAT'S THING I WOULD DO IS TO BECOME A HATER JUST LIKE LIKE YOU. BUT IT LOOKS GOOD ON YOU AND  YOU KNOW THE SAY IF THE GLOVE DON'T FIT IT'S TIME FOR JAMES TO QUIT!!!
On another subject, it is hilarious for those who have understanding to see how even while he/she is accusing someone of a certain thing, he/she, HEY JAMES THOSE COURSE HAIRS ARE REAL BUT YOUR FORKED TOUNGE LIES LIKE A THE RATTLESNAKE YOU ARE OF COURSE YOU HAVE TROUBLE READING THEM.
Andra James and her boy friend James Walker the VII wrote the Misgendering hate towards me. Seana Richmond a Transelectrologist said He/She loves to Misgender me, while making racist remarks about both me and poster "Sanny", he/she accuses me of being a shameless promoter, while promoting him/herself to the Nth degree. James and Seana say,"He/She calls the CPE a fraudulent credential (which, I guess makes the SAT, MCAT, LSAT and GRE just as fraudulent, as they are all administered by the same organization) while he/she has created his/her own credential and is advocating and advertising that the world's electrologists should pay him/her, and submit to his/her tender mercies for evaluation of their technique. Seanna says He/She makes up his/her so called Certified Educational Upgrades (certified by what, or whom?) in a bald faced copyright infringement on the Continuing Educational Units (CEU's) required for those with credentials to maintain them, from MD's to CPE's. Every thing that Andrea James and James Walkers writes is a lie and James Walker the VII posting on a forum and do you know what his handle was? " It was "Licensed Electrologist" and that IS his wanton hate and the reason he hates "Licensed Electrologists." The only reasons James Walker cannot become a Licensed Electrologist are that he does not possess a High School Diploma or he has Sexually Transmitted Disease that cannot be cured such as Syphilis and the last item is a criminal record are the reasons why people cannot become a licensed electrologist. However the last reason is some people are to lazy to go to school. All applicants in Massachusetts must have a blood screening to rule out contagious disease. James Walker always bragged that he belonged to the Pep Sex Club in New York state and people must be careful. It's a shame James and Seanna are so hateful and Misgenders Transwomen and Transmen. 
Oh, and he/she says he/she hates us, but he/she so desperately wants our attention that he/she spends the holidays trying to get us to interact with him/her. Perhaps I should have sent him/her gifts, and a fruitcake. Maybe got together a group and went to sing carols at his/her door. I still say that if I ever go missing, you all know where to send the search party. Just watch Alfred Hitchcock's Psycho to see what I am talking about. MR JAMES WALKER IS A PARANOID AND AS MENTIONED BEFORE HE NOT NOT WELCOMED ON MY PROPERTY, ONE DAY HE ENTERED MY OFFICE WITHOUT MY PERMISSION AND I CHASED HIM OUT AND WHEN LEAVING HE THREATENED ME AND SAID HE WAS GOING TO KILL ME. HE INSINUATES THIS ON THIS WEBSITE HIS INTENTIONS TO HURT ME. ITS OBVIOUS THAT THE OWNER OF HAIRTELL.COM IS ANDREA JAMES AND MR. WALKER IS ANDREA JAMES FIANCE. MODERATOR OF HAIRTELL.COM. MR JAMES WALKER COPIED COPRIGHTED TEXT FROM MY WEBSITE BOSTONELECTROLYSIS.COM JUST TO CAUSE PEOPLE GRIEF. BUT HIS DEATH THREAT WHILE TRESPASSING AT MY OFFICE WAS A LITTLE TO MUCH. HIS ELECTROLYSIS WEBSITE IS LISTED ON  GOOGLE EXECUTIVE ELECTROLYSIS AND VISIT IT BECAUSE IT'S THE EPITOME OF GAUCHE.
JAMES WALKER WALKER VII REFUSED  TO REFUND HIS CLIENT MONEY AND REFUSED TO PROVIDE ELECTROLYSIS SERVICE THAT SHE PAID $8,600.00 IN ADVANCE AND MR. WALKER SKIPPED TOWN OPENED A NEW OFFICE WITH THE STOLEN MONEY TOOK AND OPENED "EMANCIPATED ELECTROLYSIS" IN ROCHESTER NEW YORK THAT HE LISTED WITH GOOGLE.. ITS A FACT JAMES WALKER VII NLE SPLIT THE MONEY. THE HAIRTELL.COM WEBSITE IS OWNED BY ANDREA JAMES AND JAMES WALKER IS THE MODERATOR OF HAIRTELL.CON AND YOU CAN SEE MR. WALKER IS PREJUDICE AGAINST TRANSWOMEN IN THE MANNER HE MISGENDERS ME AND SLANDERS MYSELF AND OTHER TRANSWOMEN. HOWEVER THE VICTIM OF CRIME HAS EXPOSED MR. WALKERS FILTH IN FAKE OFFICE SHACK THAT HAD MOLD, OLD FOOD AND TRASH WITH A TOILET THAT WAS NEVER CLEANED. THE BUILDING IS A SHACK AND HE GETS HIS FRIENDS TO MAKE FAKE POSTS WHEN THE PLACE SHOULD BE CONDEMNED AND BURNT DOWN. TAKE A LOOK AT THE LINK BELOW. THE END OF JAMES IS COMING SOON AND IF YOUR PART OF IT WILL BRING YOU DOWN HARD. IN THE TIME  I HAVE READ ABOUT YOU I HAVE NOT MISGENDERED BECAUSE IT SHAMES PEOPLE.
SEANNA WHEN ONE TRANS MISGENDERS ANOTHER IT BRINGS ALL US DOWN AND MAKES ALL OF US LOOK BAD. JAMES WALKER THE VII IS NOT GAY, NOT LESBIAN, NOT BISEXUAL AND IS NOT TRANSGENDERED NOR A FRIEND FRIEND OF THE GLBT COMMUNITY IN ANY FORM OR MANNER PERIOD. JAMES WALKER IS A HATEFUL LIAR TRYING TO USE FORCE TO INTRUDE AND ESTABLISH HIS HATEFUL WAYS INTO THE TRANS-COMMUNITY SO HE CAN PROFIT FROM US USING HIS PREJUDICE, DISCRIMINATION, BIGOTRY AND HATE!
BELOW IS SEANA'S RICHMONDS IS ONE OF HER HATE POST
Sigh, it's been few years since this was posted to. The nutbar is still at it. I've no idea James and Andrea, why you havent sued for libel yet. You must have a LOT of patiencce ( well I guess you do since you put up weith my endless questions, and to think James, I never ONCE clued in that you supposedly spit vitrol and hate at TG folks like myself ! I'm truly shocked ! uh…wait a minute, maybe because you never have ever? )
I came across her site while researching licensing information. Then I read Andrea's page on hairfacts. All this because any email at her domain goes to her? Really? Hint nutjob, as a 20 year veteran of System Engineering and a qualified MCSE and microsoft exchange certified specialist, I can tell you 90% of email domains are configured this way! Just wow.
Oh well I suppose I'm setting myself up to be "another shrill" and earn a special place on her page . Heck, maybe it will cure my sons autism, make the hair fall out of my face and earn me that certification I'm working so hard to attain.
I can tell you , having seen andrea 's posts accross a half dozen TG sites and interacted many times with her, I have NEVER seen the behaviour nutjob describes. I just cant believe, that anyone has put up with that libel on the web for over a decade. It just amazes me.
Seana